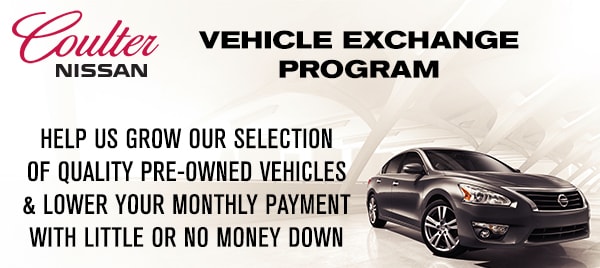 It is possible to trade-in your vehicle for a Brand New Nissan from Coulter Nissan and have monthly payments that are the same or even less than you are paying now.  You may even be able to drive a new vehicle at the same payment you are currently making and put cash back in your pocket
At Coulter Nissan we are looking for quality vehicles to add to our diverse pre-owned vehicle inventory. Right now, you could be qualified to trade in your current vehicle in exchange for a brand new vehicle, and the best part is you can do it with little or no money down.  
Benefits of the Vehicle Exchange Program include:
Little or no money out of pocket

Better financing terms available

Longer more comprehensive vehicle warranties

More advanced vehicle technology

Better gas mileage and lower fuel costs

Lower monthly payments 

Reduced maintenance and repair costs

Increased safety and security features
With your help, we can continue to improve our selection of quality pre-owned vehicles for our customers, and you can enjoy the benefits of a brand new model from our dealership. 
It's a win-win situation for everyone! For more information about this program please give us a call at (888) 685-7985