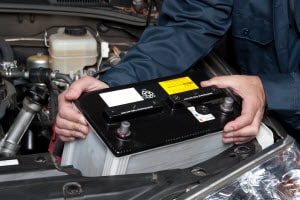 Getting your vehicle started is the first step in every journey you and your car take together. That process relies on one fundamentally important part: the battery. The battery provides a necessary power supply to your starter so that your engine can start and you can be on your way. Without battery power, your vehicle won't start and you won't be able to go on any of those grand adventures in Arizona.
Signs of a Dying Battery
Over time, your car battery will naturally run out of juice. This will happen approximately every 3-5 years and when it does occur you'll definitely know. There are a few common signs to watch for that let you know that it's time to get your battery replaced. Here are some of them:
Your vehicle fails to start the first time you try, but starts a second time
Your interior or exterior lights are dimmer than usual or are not working at all
Your air conditioning system isn't producing cold air despite the temperature setting
Your vehicle won't start at all
With all of these signs, you want to get your vehicle battery replaced as soon as possible at your local automotive parts center. Thankfully we are located close by in Surprise, AZ
Where to Buy a New Battery
Whenever it's time to buy parts for your vehicle, be sure to choose a retailer that you trust. Why? Because having quality parts for your vehicle is the key to having a healthy vehicle. You can find high quality parts at your local full-service automotive dealer--Coulter Nissan. As a full-service Nissan dealer, we carry a huge inventory of high quality parts including your replacement battery. We'll be happy to make the replacement for you if you don't feel comfortable doing it yourself, or we're just as happy to just help you get the part you need.
Coulter Nissan is conveniently located at 13301 North Auto Show Avenue in Surprise, AZ. Our service department offers extensive hours for your convenience Monday through Friday from 7:00 AM until 6:30 PM and Saturday from 7:00 AM until 5:00 PM. We are home to all of your automotive service needs, so don't wait until you're stranded on the side of the road to replace your battery. Schedule your next service appointment with us, or stop in for preventative maintenance when needed.